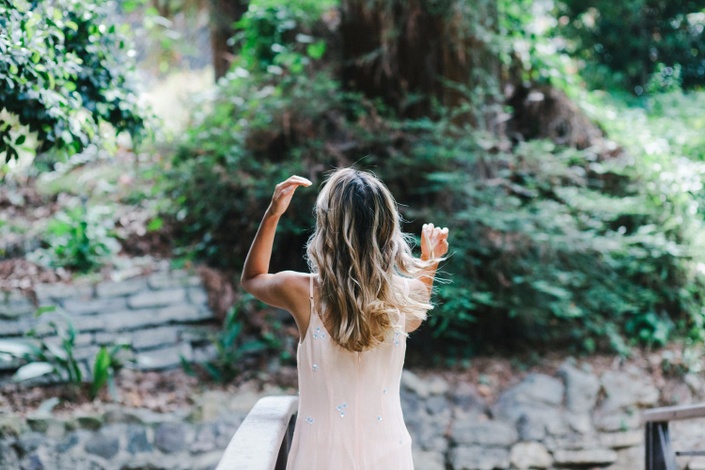 The IG90 Method to Selling on Instagram
Attract, Connect + Convert: The 5-Step Process to Grow Your Business on Instagram
Are you ready to grow your audience, increase engagement, and attract paying customers who are excited to buy from you?

YOU KNOW YOU'RE READY FOR MORE. More growth. More sales. More engagement.

Your products are gold. You've got your shop set up and your heart + home office ready to fill orders.
... but the email dings + PayPal cha-chings aren't pouring in.
As confident as you are on the creative side of your business, you feel overwhelmed and confused when you show up on social media.
(Am I being too personal? Or am I selling too much? Do I really have to use Stories... wth should I say today??)
You KNOW you could be making more sales on Instagram, but you're about as comfortable selling on social as you are wearing high-waisted denim after taco night. (ie: NOT in the least bit)
Imagine if you could:
+ Attract the right followers who are excited to buy from you
+ Know exactly what to post so you can show up consistently, with on-brand content full of personality AND a purpose
+ Create a community that looks forward to hearing from you and engages with your posts
+ Align your social media efforts so they support your business goals (no more wasted time here!)
+ Increase your brand exposure, get featured by others, and grow your account (AND your bank account...cha-chiiiing)
The IG90 Method is for product shop owners who are ready to grow and create a social presence that sells.
~ If you're confused on what to say every day or feel like you're writing to a blank wall...

~ If you don't know how to find the right people who will actually become customers...
~ If you don't want Instagram to be just about selling, but don't know what to say when you're not running a special sale event...
~ If you're frustrated waking up to more lost followers than you gained the day before...
This is for you.
The IG90 Method to Selling on Instagram
for Shop Owners, Makers, and Etsy Sellers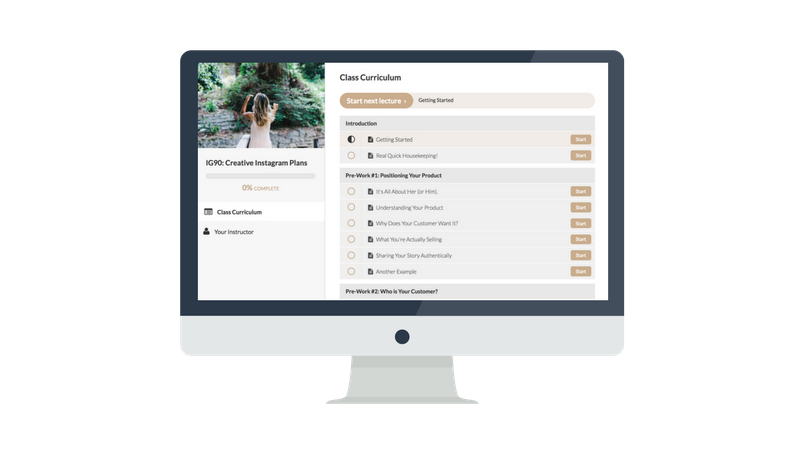 With The IG90 Method, you will have the strategies to:
attract the *right* followers, create content that sparks engagement, and convert followers by leading them down the path from follower to buyer in a natural way using the Instagram platform.
Let's say goodbye to random posting, "time-sucking engagement hacks", and sweaty palms staring at that blinking cursor.
Let's focus on connection first, then conversion.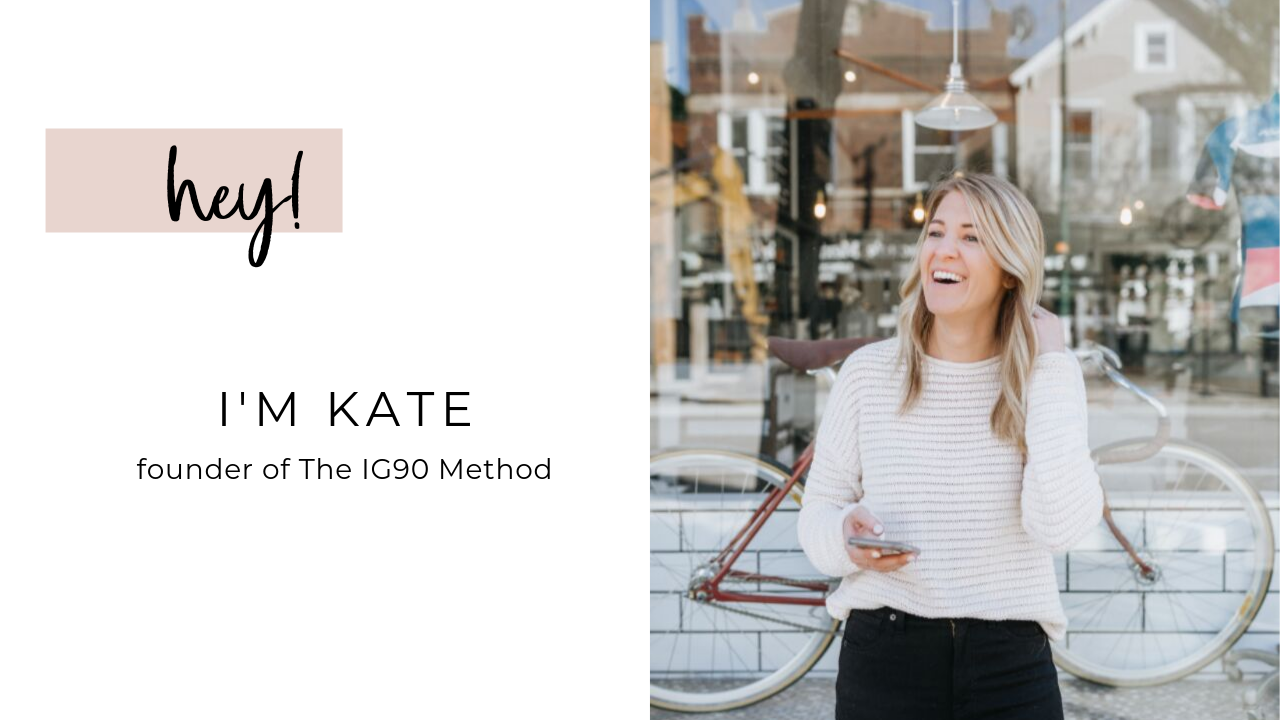 For over 10 years I've curated cohesive assortments, developed effective marketing strategies to increase sales, and successfully launched new product collections in the retail industry.
The IG90 Method brings my brand-building retail knowledge together with over 3 years working alongside product shops to create organic social media marketing strategies to get your online shop the exposure + presence it needs to succeed.

I've helped over 200 brands create an Instagram presence that sells, without feeling overwhelmed or like they're constantly selling. And can't wait for you to be next.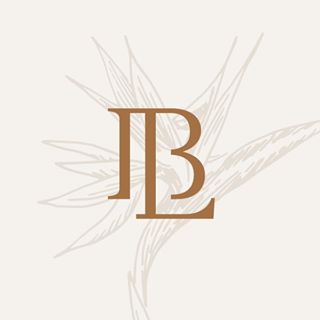 WITH THE IG90 METHOD, YOU DON'T NEED TO SPEND HOURS ON INSTAGRAM:

I posted one of my products on Instagram and sold it in less than thirty minutes!

"After implementing just a fraction of the tips learned in the first portion of the course, I posted one of my products on Instagram and sold it in less than thirty minutes!
I still have people contacting me about that post, nearly two months later

My main struggle was knowing what to say in my posts, and this is why I felt the need to do the course. The advice I learned from IG90 not only helped me craft Instagram post descriptions that sell, but learning what to say also helped me formulate hashtags that would reach clients and not other Etsy sellers or stationery designers"
- Valerie, @bettylupaperie
Find her shop at BettyLuPaperie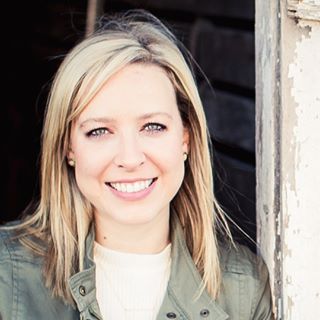 WITH THE IG90 METHOD, YOU DON'T NEED 10,000+ FOLLOWERS TO GET RESULTS:
After implementing just one of your recommended strategies I became so busy that I haven't had a chance to finish... such a good problem to have!!
- Lindsey, @WeatheredWoodHome
If you're here right now, then you know that small shops are the next "big" thing in business.
People are seeking out connections more than ever. They're craving a personal touch, a brand with meaning, a business with intention. They want to know there is a human behind the brands they're investing in.
But to buy from you... they need to KNOW OF YOU first.
So hiding behind short captions, stock photos, and an inconsistent posting strategy isn't doing you - or your bank account - any favors.
Let's give them the opportunity to know you and find your products - maximizing the organic reach that your (totally free!) Instagram account gives you.
The IG90 Method gives you a proven framework to:
tap into your customer on a deeper level so they become motivated buyers

position your brand so your ideal customers find you AND hit follow

create content that inspires real engagement from your followers (ya know, the kind of captions that leave them saying "YASSS. omg this is me")

grow your bank account, along with your followers

consistently show up, without burning out or second guessing what to say
You can grow a successful business online. The market isn't too saturated, it hasn't all been done before, and the algorithm isn't against you.
This is so possible for you. If you're willing to put in the work and uncover your unique customer connections that set your brand apart.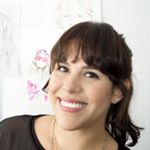 WITH THE IG90 METHOD, YOU CAN SAY 'GOODBYE' TO OVERWHELM + SHOW UP CONSISTENTLY:



I've been trying to be consistent on Instagram for like 5 years, but planning the content beforehand has never been my strongest. I used to leave months in between posts, or rushed to publish whatever was on my mind.
But your system and prompts make it SO easy (and I love easy!).
Using the same theme for the four content pillars is such a relief because I don't feel overwhelmed thinking about more things to write about.
I'm loving IG90 and I completely recommend it because you've thought about everything and take us step-by-step through the process - thank you Kate!
- Karen Avila, Artist + Digital Planner Creator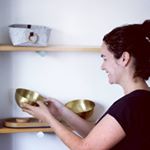 "by far the best in terms of understanding ecommerce."

I'm LOVING your course! I actually recommended it to a couple of friends and I know one of them has already purchased. I've taken many courses since starting my business including one super expensive one and yours is by far the best in terms of understanding ecommerce.
- Elisheva, Loop Living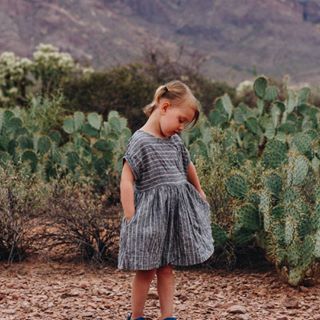 You're the best. Seriously you have single handedly, changed how I do business and use Instagram.
- Karyn, @siggiclothier
Find her shop at SiggiClothier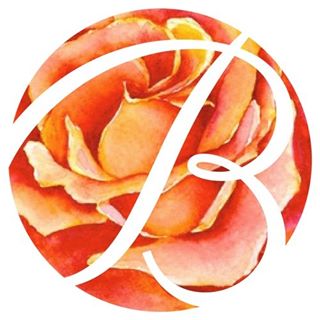 "It's helping my entire brand take shape..."
I've been working through the get to know your customers part and the first worksheet was filled with "aha moments" about seeing ways to connect to my customers.

It's giving me ideas for much more than just Instagram; I feel like it's helping my entire brand take shape in a way that nothing else has helped me to do before.

-Shanna, @bristol_and_breve
Find her art at Bristol + Breve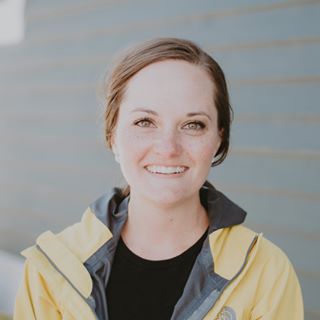 Because of your IG90 program (so insightful, OMG!) I completely overhauled our IG/FB pages and so grateful I did because we got a celebrity assistant's attention and interest... couldn't have done it without your help. So thanks again!! ❤

-Rene, @pureandcoco
Find her natural skincare shop Pure + Coco here
"You just saved me tons of time."

I am working the course! LOVE IT!

I just discovered the promotional event excel spreadsheet - I love this kind of organization!! And you just saved me tons of time creating it for my little business!
- Miriam Deckert
This course is closed for enrollment.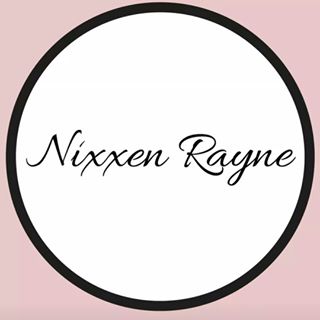 "The IG90 is a game changer!"
I was working though the IG90 at lunch and I'm excited to implement what I've learned! I really am blown away with all the info. It will literally change my business!
- Rachel, @nixxenrayneboutique
Find her shop (and the cutest mobile boutique!) at Nixxen Rayne
AND THIS WONDERFUL LITTLE NUGGET FROM AUTUMN:


- Autumn, @dupreandmoore
Find her shop at Du Pré and Moore
This course is closed for enrollment.
Here's what students are saying...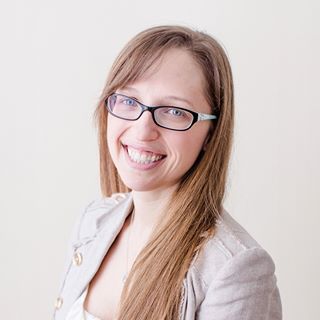 "I know what photos I need to take in advance... I don't need to scramble!"
I'm loving your resources. You really digest things down to something I can absolutely grab onto and run. Your inverted method to creating content is SO much more accessible to me.
Thank you so much for putting all of this together for us. I've finished writing out the whole month of April for plans, I know what I'm going to say each day, I know what I'm targeting each day - including two promotions during the month and how I can manage to both hard sell and soft sell for them.
And even better… I know what photos I need to take in advance so I don't need to scramble to come up with something!
A whole month! Planned! What a weight off my shoulders.
- Stephanie, @phylogenyartstephanie
Find her work at Phylogeny Art and her Etsy shop, Phylogeny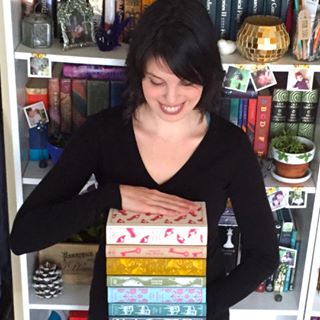 Your IG course is SO amazing! I honestly don't know why you aren't charging twice as much... and that's coming from someone with 50+k who got stalled out and needed help, not a beginner at all.
I'm so grateful I took it, and can't wait to launch into my new feed. This is DEFINITELY a course for the bigger accounts, where I see a lot of overwhelm once people grow and a lot is expected of them from fans. And while it's geared toward shop owners, it's honestly perfect for ANY account that wants to get to know its audience better and grow more quickly.
You taught me so much about understanding my customer and follower lifestyles, tracking important events, knowing my brand message, scheduling my posts and more. You're a wizard, and I highly recommend your course to absolutely anyone who cares about Insta. Go Kate!
- Sarah, @newleafwriter
Find her at New Leaf Writing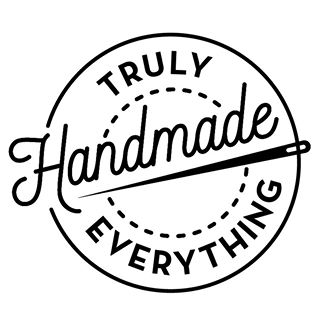 Hey girl, just wanted to share with you that yesterday I had so many people stop by our booth and meet us at our market and I truly believe it's because I have changed my approach on my Insta captions! I'm so appreciative of all your help.
- Ericka, @trulyhandmadeeverything
Find her shop at Truly Handmade Everything
This course is closed for enrollment.
Your Instructor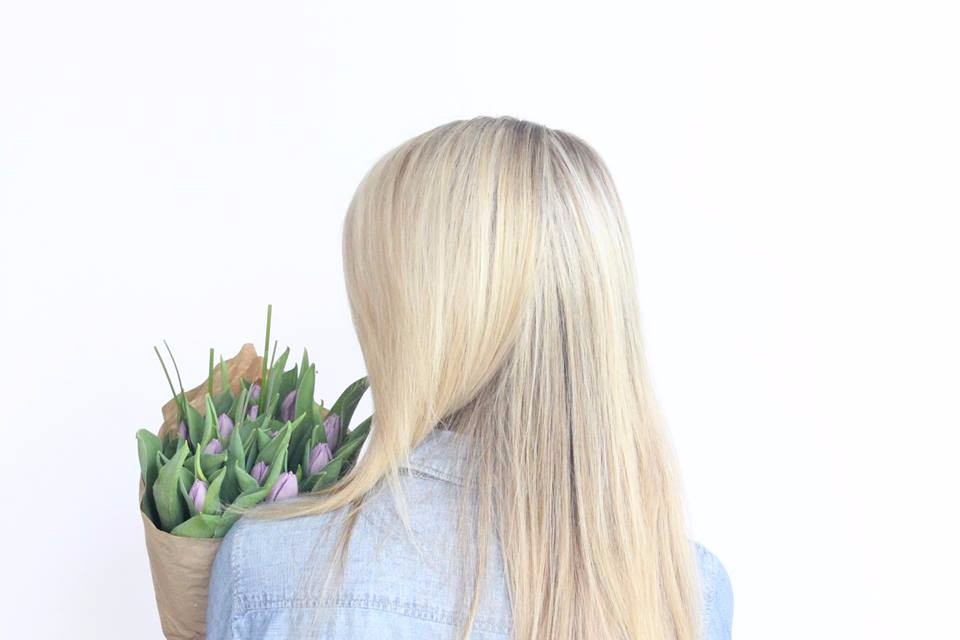 HELLO, I'M KATE!
A retail buyer who helps creatives and shop owners understand the business side; so you can take care of the fun side! Because my guess is creating products and shop experiences your customers will love is what keeps you going each day.
While I went to school for marketing, I quickly fell into the retail industry and never gave marketing a second thought. Until one day. I was frustrated with the slow sales in my department and sick of competing on price (because going back to haggle markdowns with vendors was not a favorite part of my job).
SO I STOPPED.
Instead I focused on understanding who our customer is, what she was looking for (the problem we could solve), and learned how to speak directly to her in a way that:
grew our sales by over 70% (with the same old products we'd carried for years)
increased our profits (because I no longer needed to compete on price)
allowed us to stand out as an industry leader (we quickly saw our competition take notice + imitate)
And I want the same for you.
I love tacos, big dreams and d. coke (okay, so all the Mexican foods. and french fries. fine, all the food – maybe bring ice cream) and with over 9 years of corporate merchandising experience in both buying + planning roles, I'm here to spill the secrets of a buyer (let's just call it SOB, right?) to help make your goals easier to achieve.
So if you're looking for business advice tailored to the retail industry, this is the place to be!
Course Curriculum
INTRO
Available in days
days after you enroll
UNIT 1 | POSITION YOUR PRODUCT
Available in days
days after you enroll
UNIT 1A | HOW TO POSITION ON INSTAGRAM
Available in days
days after you enroll
Frequently Asked Questions
Uhh, 90 days of content?! Sounds intimidating.
Don't worry! The 90-day content plan is to help give you direction and a goal for the next 90 days (so that your Instagram messaging aligns with your business - pretty important!) While you certainly can plan + write out your posts for 90 days (and some students have!), it's definitely not a "requirement" to find success with this method. The prompts provided will help you write captions faster + easier, so you just may find you are able to plan out a little further in advance. But the true "magic" of the 90 day road map is to provide direction and guidance for your business.
How is this course different from other Instagram courses out there?
This course is not a generic "Instagram 101" where I tell you how to set up your account or go over basic ideas to grow your following. Instead, we focus on how to leverage the Instagram platform to earn your customers trust, which turns into sales. I'll walk you through how to position your product + brand to tell your story through intentional messaging that speaks directly to your ideal customer. Plus, unlike other "one size fits all" approaches, this course was created just for product sellers, like you! When it comes to successful selling on Instagram, it takes more than just posting a photo. What makes IG90 different from others is how we create purposeful messaging to turn your audience from interested follower >>> to raving fan >>> into loyal customers.
Are the prompts lame or cookie cutter "fill in the blanks"?
No way! These were created as writing prompts and give you specific ideas to think about or include, but aren't a bunch of pre-written "fill in the blanks" or one worded prompts like "workspace". The prompts give you a starting point so you can craft your own version of storytelling for your brand, based on your findings from the Pre-Work modules. Plus I give examples for many of them so you can see how to weave in your own story and personality.
How is the course structured?
The course is currently a mix of written lessons + worksheets. It is structured to be worked through in order of lessons - starting with the customer/brand framework, then business strategy, and then using those findings when developing your Instagram strategy. For the Pre-Work lessons, the worksheets will walk through how to apply to your business so you're taking action as you work through the course. In the 90 Day Strategy Session, there's one main worksheet and all the individual sections go into detail on what or how to consider in that section. The Building Your Content Strategy section is the most "lesson heavy" in the beginning; before going into the actual work where you'd start to craft your Instagram plan or brainstorm post idea (using the 100+ prompts provided and/or your own ideas)
Who is this course NOT for?
This course was designed specifically for shop owners + creatives who sell physical products (it's NOT a general course for bloggers, service providers, or other small businesses.) While many of the lessons can apply to other businesses, please reach out before purchasing if you're interested so we can determine if it's the right fit!
When does the course start and finish?
The course starts now and never ends! It is a completely self-paced online course - you decide when you start and when you finish. And the best part? It's never really "finished" as all the prompts can be re-worked and re-used!
How long do I have access to the course?
How does lifetime access sound? After enrolling, you have unlimited access to this course for as long as you like - across any and all devices you own. PLUS you'll always have access to updates and new additions at no extra cost.
What if I am unhappy with the course?
I stand behind the work I put into this course, but understand it may not be the right fit for you. If you have questions prior to purchasing, please reach out so we can chat about whether it's a good fit! I've always been very honest with those who ask and would rather tell you "this won't be a good fit for you" (and the reasons why) then just say yes to get a sale. I would never want you to be unhappy with your purchase; so if there is an issue, please reach out within 30 days.
This course is closed for enrollment.